a very special Christmas for me!
My tree is up!  And I'm aware that it's leaning.
I can hardly believe my eyes!  It would be safe to say that Ox hates Christmas and because of that my holiday spirit dwindles a little each year.  This year; however, I caught him playing Christmas carols just before Thanksgiving, which has been a HUGE no-no in our house for as long as I've been with him.  Yesterday, he mentioned that his sister's family was going to town with their truck to pick up a Christmas tree and it would be a good idea if we followed and had them haul ours too, so "we don't have to deal with strapping it to the roof of our car later."  Wow! I'm in shock.  I asked if he was beginning to like Christmas and he replied, "No.  I've learned that a happy wife is a happy life."  And right he is!
The smell of pine in our house is driving me to tidy up and get ready for some baking.  Ahhh! Christmas baking.  Time to pull out the cookbooks and get my line up of holiday cookies.  Speaking of cookies, did you know ThePioneerWoman has dubbed this week #CookieWeek on Twitter?  Good ol' P-Dub wants to make sure we get our fill of recipes for the holiday season.  That's why I love her.
And because I'm in the Christmas mood–with a little encouragement from my cousin who has her cards in the mail on the 1st of December (honestly, who does that?) –I've got my cards designed and ordered.  Now, addressing and stamping them is another story.  Don't get your hopes up; I may have an early start on them, but they might come as New Year's cards.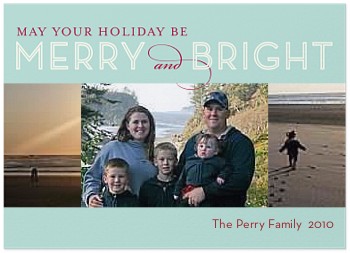 Bright Merry Story Christmas 5×7 folded card